Furniture Leather Repair
Couches, Love Seats, Sofa's, Chairs….
​
Leather repair emcompasses a range of services that can be performed to:
Remove spots & stains

Repair cuts, scuffs and scratches

Restore dry and cracked leather

Repair fading and discoloration

Rejuvenate, refurbish, re-dye or re-pigment colors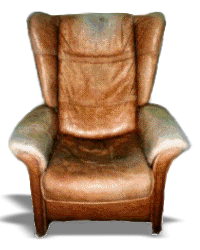 Renew Your Leather for a Fraction of the Cost of New!
Leather furniture and other leather products are costly investments. To ensure its lasting beauty, though, leather must be properly maintained. The great thing about leather, though, is that neglect and damage can often be corrected or reversed!
Leather Restoration
Unlike fabric upholstery, leather is also prone to color damage from exposure to oils, sunlight, wear, and lack of maintenance. .Such problems as fading, color loss, or discoloration can be corrected with pigments and dyes precision-matched to your original leather hue and finish. Superior is one of the best for color matching, we don't use unreliable color matching machines. With over 35 years of experience, it's all done by eye, adding various colors for that perfect color match.
Leather Cleaning
Many believe that most of their leather problems can simply be corrected by cleaning. In fact, the overwhelming majority of these issues can only be addressed with fairly extensive repair and color restoration. Body oils, perspiration and other things can cause problems for leather that require redyeing.
What Type Of Leather Do We Clean?
Leather properly maintained will last four or even five times longer than fabric or man-made fibers. Our leather specialists have been thoroughly trained in how to properly identify your type of leather.​
Protected (P) – Also known as Semi-Aniline, Pigmented and Painted leather.

We also repair and restore various types of Vinyl
​​
We can hand Clean, Protect, Repair and Restore (if needed) all of your leather products.
| Cut in leather, meticously repaired. | Hole in leather headrest | Full leather color restoration |
| --- | --- | --- |
| Damaged leather from moving sofa | Fabric Upholstery Repairs | Body oils deep cleaned and redyed |
Mobile service at your location. Expert 35+ leather, vinyl and upholstery repair and restoration technician. Whether it's your couch, car seat, or RV.
We can fix it!